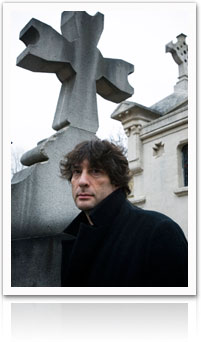 After having Neil Gaiman's Newbery-winning work, The Graveyard Book, recommended to me by a couple of different sources, I picked up a copy at the Hutchmoot in August.  Although I am in the thick of this unique read,  my curiosity about the author was sufficiently piqued, so I did some rummaging on his website.  Under the FAQs his advice to authors was enlightening, but I found his influences particularly interesting.
Q: From what I gather the atmosphere of this book has a Tim Burton air to it. In fact, to me, and possibly me alone – though I doubt as much – you as a creator have a Tim Burton air in general. Have you been influenced, or inspired by him? Could you maybe list off some of the folks who have inspired you?
A: Tim Burton came along much too late to inspire me. I think the people who influence you probably did it before you were twenty – in my case the list would have to include C.S. Lewis, J.R.R. Tolkien, Harlan Ellison, Lou Reed, R. A. Lafferty, E. Nesbit, David Bowie, Jim Henson, Roger Zelazny, Will Eisner, Dr Who (the Hartnell, Troughton and Pertwee incarnations), Jules Feiffer, Noel Langley, Ursula K. LeGuin, Michael Moorcock, Hope Mirrlees, Margaret Storey, Robert Heinlein, Al Stewart, Charles Addams and the people who did the black and white episodes of The Avengers… and that's just for starters…
Q: What sparked your Myth interest?
A: I think it was always sparked reading the Roger Lancelyn Green Legends of the Norsemen and Legends of Ancient Egypt when I was seven certainly fanned the flames.
Q: What part of the day does most of your ideas come from?
A: Teatime.
Q: What was your favorite book when you were a child? What is your favorite children's book now that you're grown up?
A: When I was growing up… probably the Narnia books. Probably The Voyage of the Dawn Treader. Now I'm grown up I've got to read the Narnia Books out loud twice, about a decade apart, and I still think they are astonishing, although I'm more aware of the things I don't like about them. As a grown up, I think Richmal Crompton's William books are better than I thought they were as a kid, and I loved them, most of them, as a kid.
Q: Do your imaginings ever get lost? I'm ashamed to admit I quit believing, but I guess the real question is: Do you ever have a story suggested to you by a piece of artwork (such as a painting, illustration, or sunset)?
A: I get stories from everywhere, and yes, artwork is one of those places. I wrote a number of stories inspired by Lisa Snellings statues, for example.
Q: Many of your books feature doors, walls, and other structures. Do you have a fondness for architecture? If so, what is your favorite city?
A: I think my favourite city is Venice. I like architecture when it evokes something interesting.
Q: Why do all your books contain scenes, in which you tell us about what they're dreaming?
A: Because dreams are important.
The above is taken from Mr. Gaiman's official website: http://www.mousecircus.com/faqs.aspx
One response to "Influences of Author Neil Gaiman"