Below are a number of links to posts addressing the recent Revoice conference that took place in St. Louis, MO. I commend them to your reading:
CREC Statement on Sexuality  by Virgil Hurt, Presiding Minister of the CREC
Revoice: Sliding into Heresy by Dr. Peter Jones
A Time to Stand: Revoice and the Future of the PCA by Pastor Jon Payne
Christmas Caroling at Elmcroft of Brentwood
Sunday December 17th, 3;30 PM
While Edmund Burke was writing in a specific context and to a specific subject in his Reflections on the Revolution in France, the following insight certainly imparts wisdom to the church in her ministry to the world (pastors and laymen alike), and rightly challenges the tendency toward a censorious spirit.
It is undoubtedly true, though it may seem paradoxical; but in general, those who are habitually employed in finding and displaying faults, are unqualified for the work of reformation: because their minds are not only unfurnished with patterns of the fair and good, but by habit they come to take no delight in the contemplation of those things. By hating vices too much, they come to love men too little. It is therefore not wonderful, that they should be indisposed and unable to serve them.

This year our Lessons & Carols Service will be December 23rd, 4 PM with a fellowship meal following. We will not have a Christmas Eve Service, but will have Sunday Service Christmas Day at 11 AM. Please join us in our celebration of the Incarnation and Birth of Christ our Savior and King.
I have decided to simplify my thinking for the upcoming election, so perhaps this will be helpful to others. Paul writes in his first letter to Timothy: Therefore I exhort first of all that supplications, prayers, intercessions, and giving of thanks be made for all men, for kings and all who are in authority, that we may lead a quiet and peaceable life in all godliness and honesty (2:1-2, emphasis added). I am going to vote for the candidates on the local, state, and national levels that I believe will afford the best opportunity for that kind of life to be lived. I would encourage you to do the same (if you choose to vote), and then be at peace with your decisions, trusting the Lord with the outcomes.
Today's news headlines are overwhelming, depressing, and anxiety-inducing. Heeding Paul's admonition for our anxieties to drive us to pray (Phil. 4:6), let us do so:
O God, who art the Hope of all the ends of the earth, the God of the spirits of all flesh: We beseech Thee to hear our humble intercessions for all races and kindreds of men, that Thou wilt turn their hearts unto Thyself. Remove from our minds hatred, prejudice, and contempt for those who are not of our own race or color, class or creed; that, departing form everything that estranges and divides, we may by Thee be brought into unity of spirit, in the bond of peace. Amen.
And,
Almighty God, from whom all thoughts of truth and peace proceed: Kindle, we pray Thee, in the hearts of all men, the true love of peace, and guide with Thy pure and peaceable wisdom those who take counsel for the nations of the earth; that in tranquility Thy kingdom may go forward, till the earth be filled with the knowledge of Thy love; through Jesus Christ our Lord. Amen.
From The Book of Common Worship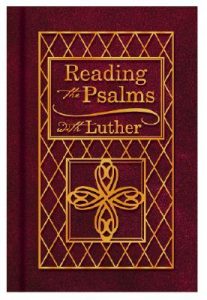 At St. Mark we sing the Psalms, and within the last year have started chanting them. The Psalms are a regular part of the weekly liturgy, and should be for all churches. The Psalms are God's prayer book; they are the Psalms of Jesus our king, and although Jesus taught the disciples to pray when they asked, surely the Psalms themselves tutor God's people in the life of prayer. The church is taught a wider range of emotions in prayer than they might otherwise pray, as well as bolder and deeper petitions. This being true, the Psalms are also valuable for the daily life of the believer. The habit on Sunday should carry over into the habits of the other days of the week.
Several years ago, a fellow pastor and friend recommended Reading the Psalms with Luther as a helpful tool for learning to chant the Psalms. I obtained a copy, and began to incorporate chanting the Psalms as part of my morning prayers. On more than one occasion I have been thankful for the Lord's perfect timing on what He has taught me to pray, and the choice words that have been a boon to my soul.
The current events and news of recent days have been weighing heavily, raising questions about the future, and causing a measure of unrest in my spirit. This morning Psalm 37 was the next one to be chanted. The first three verses were immediately apt:
Fret not yourself because of evildoers;
be not envious of wrongdoers!
For they will soon fade like the grass
and wither like the green herb.
Trust in the Lord, and do good;
dwell in the land and befriend faithfulness.
Within moments my faith was reminded of a faith-full outlook, what it is called to pursue, and my heart was lifted. I realize this experience is not only limited to believers and the Psalms, and can be known when reading other portions of God's word, but the Psalms uniquely serve the praying-life of God's people.
Lord, teach us to chant, and so teach us to pray.
This evening we read 2 Samuel 24 as a family, and my five year old daughter had a particularly hard time reconciling the fact that so many people died (70,000) when it was David who sinned. His life was spared. These other people died in his place. God had mercy in stopping the Angel of the LORD before He inflicted judgment on Jerusalem. We talked about there being consequences for sin, especially the sins of leaders, and how sin doesn't only affect one person. Yes, we suffer on account of the sins of our leaders, whether on a national, state or local scale. That is part of how God made the world to operate. But it also occurred to me after some further reflection that we, God's people, never suffer on account of the sin of Jesus our King. Certainly Jesus is sinless, and so we are never put in a position to suffer for His mistakes, but David's failure in 2 Samuel 24 points forward to the Greater David who never fails. David was the shepherd of Israel, but the sheep suffered for his sin. Jesus is the Great Shepherd, but He suffered for the sins of His people. A sinless Shepherd is a comforting reality for God's people, and though we may suffer for His name and cause, it will never be on account of His failure as our King.
The scepter of the wicked will not remain over the land allotted to the righteous, for then the righteous might us their hands to do evil. – Psalm 125:3
"…we are here warned that the the guardianship of God does not secure us from being sometimes exercised with the cross and afflictions, and that therefore the faithful ought not to promise themselves a delicate and easy life in this world, it being enough for them not to be abandoned of God when they stand in need of his help. Their heavenly father, it is true, loves them most tenderly, but he will have them awakened by the cross, lest they should give themselves too much to the pleasures of the flesh. If, therefore, we embrace this doctrine, although we may happen to be oppressed by the tyranny of the wicked, we will wait patiently till God either break their sceptre, or shake it out of their hands. It is a sore temptation to see the wicked exercising cruelty in the heritage of the Lord, and the faithful lying extended beneath their feet; but as God does not without just reason thus humble his people, they should comfort themselves from the consideration suggested in the text.
"God, from his willingness to bear with our weakness, moderates our adversities. Although, then, we may not possess in ourselves a sufficient amount of fortitude and constancy to enable us to persevere in our duty for a single moment, yet let this sentiment be present to our minds, That God will take care that, broken as we may be by afflictions, we shall not forsake his service." – John Calvin
For the sake of the house of the LORD our God, I will seek your prosperity – Psalm 122:9
"If the salvation of our brothers is regarded by us as an object of importance, if religion is with us a matter of heart-work, we ought, at the same time, as much as in us lies, to take an interest in the prosperity of the Church. Whence it follows, that such as are indifferent about her condition, are no less cruel than impious; for she is 'the pillar and foundation of truth,' the inevitable consequence of her destruction must be the extinction of true piety. If the body is destroyed, how can each of the members fail to be involved in destruction? Further, this passage teaches us, that the Church is not an empty title, but must be sought for where the true religion prevails." – John Calvin