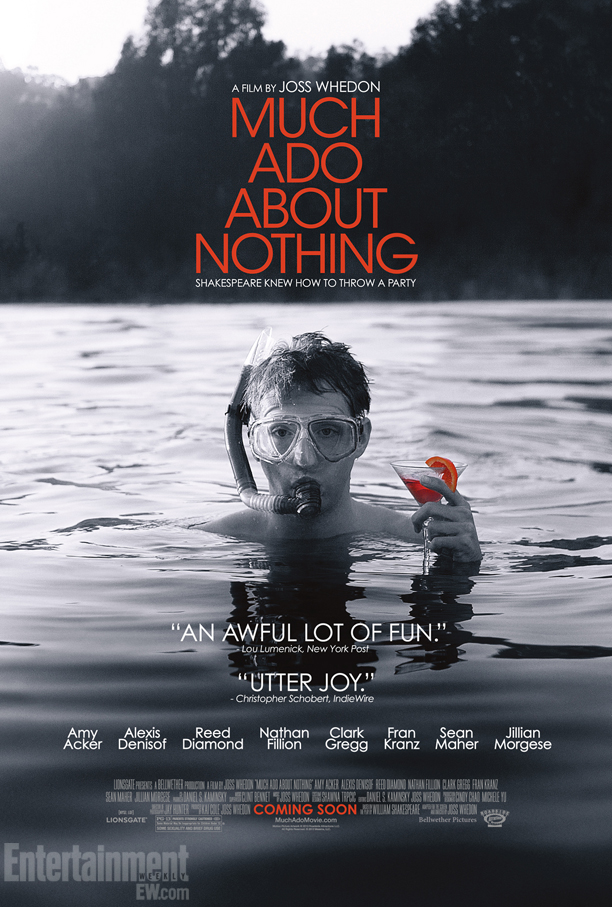 Joss Whedon's Much Ado About Nothing is a modern spin on the classic Shakespeare play.  On the whole his stylish interpretation is highly entertaining, driven by Shakespeare's witty dialogue and a capable cast (many of whom have appeared in Whedon's other works).  I especially enjoyed the characters of Beatrice (played by Amy Acker) and Claudio (played by Fran Kranz).  How can you not be engaged by Beatrice's rapier wit?  And the facial expressions Kranz brought to Claudio's character were as impressive to me as his delivery of the dialogue.
(SPOILER ALERT)
However, there is one glaring problem with Whedon's Much Ado: the opening scene.  The movie begins with what is clearly the end of a one night stand between Beatrice and Benedick (played by Alex Denisof).  Though "modern," Whedon's choice to give Benedick and Beatrice a history causes significant dissonance for the remainder of the film.  When Benedick is later led to believe that Beatrice loves him, one of the three attributes that he extols of her during a soliloquy is that she is "virtuous."  Why would that matter to him since he's already slept with her?  Further, the tension that is created between Claudio and the object of his affection, Hero (played by Jillian Morgese), is directly related to her sexual purity.  Why should her purity matter in a world of promiscuity, as Whedon portrays?  He holds fairly true to Shakespeare's dialogue, and would have been foolish not to, but the climax of the movie (brilliantly acted) loses some of its power because of the contemporary context Whedon attempts to infuse.  So, if you're a fan of Shakespeare and/or Whedon, definitely see this film.  You'll probably enjoy 95% of it.  Shakespeare's mastery still shines through despite Whedon's lack of virtue.
Gina Delfonzo of the The Atlantic wrote this excellent review.