Today marks the Feast of the Holy Innocents, founded upon the bloody Christmas story recounted in Matthew's Gospel:
Now when they had departed, behold, an angel of the Lord appeared to Joseph in a dream and said, "Rise, take the child and his mother, and flee to Egypt, and remain there until I tell you, for Herod is about to search for the child, to destroy him." And he rose and took the child and his mother by night and departed to Egypt and remained there until the death of Herod. This was to fulfill what the Lord had spoken by the prophet, "Out of Egypt I called my son."

Then Herod, when he saw that he had been tricked by the wise men, became furious, and he sent and killed all the male children in Bethlehem and in all that region who were two years old or under, according to the time that he had ascertained from the wise men. Then was fulfilled what was spoken by the prophet Jeremiah:
"A voice was heard in Ramah,
weeping and loud lamentation,
Rachel weeping for her children;
she refused to be comforted, because they are no more." (2:13-18 ESV)
As documented in The Christian Almanac, "Virtually every culture in antiquity was stained with the blood of innocent children."  The Romans, Greeks, Persians, Chinese, Ancient Hindus and Arabs, Polynesians, and Primitive Canaanites all had various means and reasons for murdering (aborting) unwanted children.  "Because they had been mired by the minions of sin and death it was as instinctive as the autumn harvest for them to summarily sabotage their own heritage.  They saw nothing particularly cruel about despoiling the fruit of their wombs.  It was woven into the very fabric of their culture.  They believed that it was completely justifiable.  They believed that it was just and good and right.
"The gospel therefore came into the world as a stern rebuke.  God, who is the giver of life (Acts 17:25). the fountain of life (Psalm 36:9), and the defender of life (Psalm 27:1), not only sent us the message of life (Acts 5:20) and the words of life (John 6:68), He sent us the light of life as well (John 8:12).  He sent us His only begotten Son – the life of the world (John 6:51) – to break the bonds of sin and death (1 Corinthians 15:54-56). For God so loved the world, that He sent His only begotten Son, that whosoever believeth in Him should not perish, but have everlasting life (John 3:16)" (758).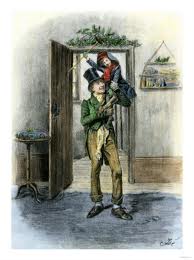 In Charles Dickens' classic, A Christmas Carol, Ebeneezer Scrooge visits the Cratchit family with the Second Spirit, the Ghost of Christmas Present.  Bob Cratchit and his son, Tiny Tim, have  just returned from church on Christmas Day, and Mrs. Cratchit asks, "And how did little Tim behave?"  "'As good as gold,' said Bob, 'and better.  Somehow, he gets thoughtful, sitting by himself so much, and thinks the strangest things you ever heard.  He told me, coming home, that he hoped the people saw him in the church, because he was cripple, and it might be pleasant to them to remember upon Christmas Day who made lame beggars walk and blind men see.'"
To borrow from Tiny Tim, as we think about the children and adults murdered in Newtown, CT last week, it would be good to remember upon Christmas Day the Savior who was born to raise the dead and swallow up death in victory.
In his comments on Peter's denial of the Lord in Matthew 26:70, John Calvin remarks, "In short, as a bold and open confession edifies all the godly, and puts unbelievers to shame, so apostasy draws along with it the public ruin of faith in the Church, and the reproach of sound doctrine.  The more eminent a man is, therefore, he ought to be the more careful to be on his guard; for his elevation makes it impossible for him to fall from it without doing greater harm."
Paul's exhortation to Timothy readily comes to mind: Keep a close watch on yourself and on the teaching. Persist in this, for by so doing you will save both yourself and your hearers (1 Tim. 4:16).