The other night around the dinner table I raised the question of comparison between Chesterton's imagery of God's "appetite for infancy" as expressed in "The Ethics of Elfland" in Orthodoxy, and the Bible's clear teaching that maturity is the trajectory and goal for the believer, the church, and the world.  How do those seemingly disparate pictures match up?  How can they be synthesized?  Are they supposed to be synthesized?  Is my definition or understanding of maturity mistaken? (That's likely, I suspect.)  Today I read a terrific post by Jennifer Trafton Peterson over at The Rabbit Room.  I really can't commend it highly enough to you, so go read it, but I am going to steal a quote she cites from Madeleine L'Engle's essay "The Door, the Key, the Road."  In distinguishing between childlike and childish, L'Engle writes,
A childish book, like a childish person, is limited, unspontaneous, closed in . . . But the childlike book, like the childlike person, breaks out of all boundaries. And joy is the key. Several years ago we took our children to Monticello, and I remember the feeling we all had of the fun Jefferson must have had with his experiments, his preposterous perpetual clock, for instance: what sheer, childlike delight it must have given him. Perhaps Lewis Carroll was really happy only when he was with children, especially when he was writing for them. Joy sparks the pages of Alice [in Wonderland], and how much more profound it is than most of his ponderous works for grownups. . . . But in the battering around of growing up the child gets hurt, and he puts on a shell of protection; he is frightened, and he slams doors. Real maturity lies in having the courage to open doors again, or, when they are pointed out, to go through them.
I especially love that last sentence.
None of us will ever get our minds around a God of play who is the Ancient of Days, and we should laugh in wonder at such a thought.  And as we find ourselves in the season of Advent and looking to Christmas, let us remember that Wisdom became a child, and there was great joy in Heaven at that event.  So great that it spilled over into our dimension, and was witnessed by shepherds and sheep!  Let us imitate Heaven's joy, and we will know something more of Heaven's maturity and the courage it engenders.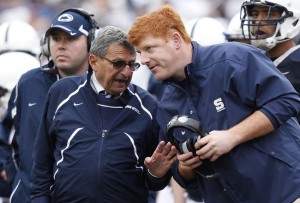 We do not know all of the details of what was reported to Coach Joe Paterno on that fateful day in 2002, when then grad-assistant Mike McQueary told the head coach that he'd witnessed something.  Based on the available information, though, it is not difficult to understand why JoePa is coming under so much scrutiny.  In fact, in the statement that Paterno released this morning announcing his resignation at the end of the year, he admits that "[with] the benefit of hindsight, I wish I had done more." This is a sad admission by a man who has always appeared to be directed more by principle than popular opinion, but it also raises the point that leaders are held to a higher standard.  With positions of leadership comes greater responsibility, and the evidence (i.e. Paterno's own admission) seems to indicate that Coach JoePa did not act accordingly.
Apparently, there are others who also share the fault.  Athletic director Tim Curley and university vice president Gary Schultz have both left Penn State as result of the their involvement, or lack thereof, with the situation.  Then there's Mike McQueary who witnessed the aforementioned incident.  Why didn't he go to the police or be more proactive at the time about what he saw? Granted, he is not the face of Penn St., but what was he thinking that didn't warrant immediately calling the police?  (Here's an interesting article that may shed some light.) Pennsylvania State Police Commissioner Frank Noonan stated on Monday, "I don't think I've ever been associated with a case with this type of eyewitness identification of sex acts taking place where the police weren't called."  McQueary is culpable.  So is Paterno, and all who had some knowledge of the matter (Joe Boylan doesn't pull any punches in his editorial).
On Monday, Matt Millen, ESPN analyst and former player at Penn St., broke down in the middle of an interview and said, "if we can't protect our kids, we, as a society, are pathetic."  I think Mr. Millen is saying far more than he may even realize.  The simple fact of the matter is that our society does not promote the protection of our children.  Rather, it promotes exposure and loss of innocence through a wide array of means.  Consider still more, if a society is willing to kill children while they are still in the womb –  the place of places that should be one of nurture, protection and security – doesn't it necessarily follow that there will be those in such a society that will be willing to abuse children once they're outside the womb?  What happened at Penn State is a microcosm of America today.  And while horror and outrage are understandable (even right) responses, a healthy dose of self-examination should not be neglected.  Individuals and societies reap what they sow.  Given the evidence, the results are hardly happy.