Our thanks to the folks over at the Brentwood Home Page for the write-up regarding our Fall Festival Sunday afternoon.
http://www.brentwoodhomepage.com/fall-fest-features-union-stations-ron-block-cms-6803#.TqLFu1qgKgA.facebook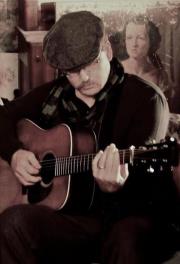 This Sunday, October 23rd, 2:30-6:30 PM, St. Mark will be hosting its first Fall Festival.  We are looking forward to enjoying good food and drink; beautiful, crisp autumn weather; fun games and activities; time spent with family and friends, and making new friends as well.  And, if these weren't enough reasons in and of themselves, we are also eager to enjoy the talents of special musical guest, Ron Block.  I had the privilege of meeting Ron and getting acquainted with him last year at a conference here in Nashville (sponsored by the online community, The Rabbit Room).  When the planning for our festival started taking shape, he was the first artist that came to my mind to invite, and he graciously accepted.  Thankfully, despite being in the middle of a tour with Alison Krauss & Union Station, we were able to find a weekend when Ron was available.  Ron is an avid fan of the writings of George MacDonald and C.S. Lewis,  and I would invite you to read more about Ron's musical career and Christian faith on his website: http://ronblock.com/ .
If you don't already have plans on Sunday afternoon, please join us in Brentwood.  If you already have plans, then change them, and join us just the same.  You will be glad that you did.


Sunday, October 23 • 2:30 PM to 6:30 PM
1301 Franklin Road, Brentwood
on the grounds of Brentwood First Presbyterian Church
Activities and Schedule
Live Music with Ron Block (of Union Station)
Concert starts at 5:00 PM
Food: BBQ, Hot Dogs and Drinks
Will be served until 5:00 pm
(Sign up below for free food vouchers)
Pumpkin Carving Contest
Winner chosen at 4:30 PM
(You will need to bring your own pumpkin and carve it on site to be eligible for the contest. )
Arts & Crafts
Until dusk
Bounce Attractions
Until dusk
cforms contact form by delicious:days