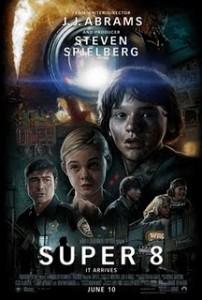 I had heard good things about the movie "Super 8," but was determined to like it simply because Joel Courtney plays a leading role.  Who is Joel Courtney? A kid from Moscow, ID who is a member at a sister church.  I don't know Joel personally, but the simple fact that people I know know him is kind of cool (for an even better take on this, go here).  I was eager to see how this young man did in his first acting gig, and he certainly didn't disappoint.  Joel was terrific.  In fact, all of the kids did a great job in their respective roles, which really makes the movie.  But the writing and story work well, too, so the cast had something to work with.  There might be a couple of plot holes here and there, but they aren't glaring.  Or it could just be that I'm not smart enough to figure some details out the first time around (maybe I'll have to go see it again).  Comparisons have been made between this film and some of Steven Spielberg's other works such as "E.T." or "The Goonies."  I still remember seeing "E.T." in the theater.  I still remember how much I enjoyed "The Goonies" the first time I saw it on VHS.  "Super 8" captures the essence that made these so enjoyable, and give us another rollicking tale of young kids who unwittingly stumble into an adventure that goes far beyond what they would have imagined.  But the movie works precisely because the events are happening to imaginative kids, and so I'm willing to go on the adventure with them, and believe that they can do some extraordinary things.  I'd be curious to know how many thirty-somethings (such as myself) enjoy this movie precisely because it reminds us of some of the movies that we imbibed in our formative movie years back in the 80s.
As to the movie itself, I don't want to really give anything away.  I will say that I liked the Romeo and Juliet theme that emerged; as well as the subtle Alice in Wonderland motif that seems to be there.  For more astute movie connoisseurs (which I am not), they'll probably catch references to some of Spielberg's past works.  This isn't a movie for young kids.  It's PG-13 for a reason, so take that into account.  I can't imagine taking someone younger than 12 years old to see it.  That being said, go and see "Super 8."  Simply go to enjoy the movie, because it's a lot of fun.  And go to enjoy Joel Courtney's performance, because, at least for me, that alone makes the movie worth seeing.
Due to some technical difficulties on my usual blog, I'm posting this here instead.
We are rejoicing in the wonderful gift that Evangeline has been and is to us. It has been an unforgettable year.
Thanks to Toby Sumpter for drawing my attention to these posts by Nancy Wilson:
I'm guessing there are other parents out there who have a sense of the inevitable tension that comes when training your children.  These are healthy reminders to keep the bigger picture in mind.
You have probably heard the news or seen the headline that Dr. Jack Kevorkian is dead.  According to Ezekiel 18:23 the LORD takes "no pleasure in the death of the wicked."  That is profoundly true, and an amazing thing to consider when Dr. Kevorkian was a man whose actions opposed the Living God.  Equally true are the word of David in Psalm 5: For you are not a God who delights in wickedness; evil may not dwell with you.  The boastful shall not stand before your eyes; you hate all evildoers.  You destroy those who speak lies; the LORD abhors the bloodthirsty and deceitful man (vv. 4-6).  Clearly God has a way of dealing with His enemies, and He has profoundly done so through the death and resurrection of Jesus Christ.  In fact, God has defeated death by the death of Christ, and then vindicated His Son by the resurrection from the dead (see Romans 1:4).  He is "'the God of Abraham, the God of Isaac, and the God of Jacob.'  He is not the God of the dead, but of the living" (Matthew 22:32) – ironically, Jack Kevorkian's given name was Jacob.  God is a God of life.  He testified to be so at the creation of the world, and testifies to the same in the new creation begun in Christ.  Dr. Kevorkian did not understand this.  Or if he did, he chose to oppose it.  Some might argue that suffering from a terminal illness really isn't living, and I understand what they mean in such statement, but that is to divorce the discussion apart from the life of faith, which I'm not willing to do.  Even as Jesus' life involved suffering, invariably our lives will be marked by physical suffering, and perhaps most acutely as our days in this mortal life come to an end.  But even those days, even that time is to be met by faith, a faith that rests in the life that is yet to come.  The actions of Dr. Kevorkian's life testified that this life is all there is; that there's nothing but nothing once we breath our last in this world.  Those whose God is the LORD know better.  They know that "Christ has been raised from the dead, the firstfruits of those who have fallen asleep" (1 Corinthians 15:20).  They know that those "in Christ shall be made alive" (1 Cor. 15:22).  And even more, they know that Jesus is alive and reigns now, and the "he must reign until He has put all his enemies under His feet.  The last enemy to be destroyed is death" (1 Cor. 15:25-26).  Yesterday marked Jesus' ascension to His throne in Heaven forty days after His resurrection from the dead.  Today Dr. Kevorkian died.  I would imagine, that in some form or fashion, Jacob Kevorkian is aware that God is the God of the living, and has met the Living King.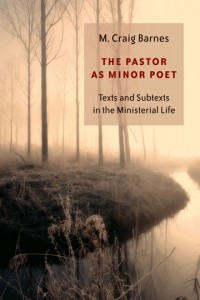 About a month ago I posted a quote from The Pastor as Minor Poet, by M. Craig Barnes, which essentially described the thesis for the book.  If you are not a pastor, this book isn't for you – though some portions might be a helpful read for pastors' wives (which I'll speak to shortly).  This would also be a good book for those looking to enter the ministry, because it provides a helpful perspective that can get lost or  pushed to the edges in the midst of theological training and study.  Honestly, though, I'm not sure an aspiring pastor would really appreciate what Pastor Barnes is conveying.  Still it is worth reading for the novice even if he may get more out of it 5-10 years down the road after having gained some real life ministerial experience and perspective.  While the book has a lot to offer in regard to the poetic approach to the ministry and what that looks like, I found the simple fact that here was a pastor approaching and articulating his ministry in this fashion to be an invigorating breath of clean air.  It further confirmed convictions that I have regarding the ministry, but also helped me to maintain my sanity that I am not the only who thinks about the ministry in this fashion (l know that I'm not because where else would I have learned to think this way except from other pastors, but sometimes it can feel like it).  So here is a pastor with years and years of experience who endeavors to have a poetic ministry in the midst of his congregation, and who understands the inherent struggles and challenges unique to such an approach.  And herein lies how portions of the books can be helpful for ministers' wives to read.  Chapter 8, "The Subtext of the Poet" is one such section.  There are too many good quotes to draw from, but consider these words from the beginning of the chapter:
Minor poets have to struggle for their poetry.  It comes only as a prize bestowed upon those with the courage to keep returning to the wrestling between the holy words of the Bible and the day's ordinary words.  At the end of the day, it's up to the parish poet to make holy sense of all these words.

This is what pastors really mean when they complain about the loneliness of their calling.  No on can do this priestly work for them, or even with them.  It is ironic that a profession that surrounds pastors with so many people leaves them alone with their own ponderings.  And this is the part of the profession that is completely missed by everyone the pastor serves….

There is nothing hierarchical or elitist about this loneliest dimension of the job.  To the contrary, pastor are never more servants of the church than when they're alone with their thoughts about what God is doing in the lives of others.  But they're not really alone.  Their souls are crowded with all who have made their way deep inside, And of course, there is also the nagging presence of the holy words that will not go away.  This is how pastors love their congregations – they take them into their souls, where they carry on both sides of a conversation between the people and their God.
Barnes goes on in the chapter to expound the ways in which the pastor finds the poetic voices.  He notes that there are times when the poets are only talking to themselves, or, more accurately, they "ponder experiences they cannot adequately describe."  For the pastor-poet this means he "is possessed by a burden to ask what God is up to in the lives of the lonely and the sick, as well as in the lives of those whose blessings are so abundant they cannot even count them."  The pastor comes alongside both, thinks on both circumstances and situations, and endeavors to speak to both:
No element of the minor poet's job description is more crucial than this churning.  The experiences, impressions, befuddlements, and penetrating words that are absorbed throughout the day have to turn over and over in the pastor's soul, where they're mixed together with the holy words of the Scriptures until at last the human subtext can be described with minor poetry.
So pastors' wives, when your husband suddenly gets that far away look at the dinner table or in the car, and you ask him if there's anything wrong, and he just shakes his head and says, "No, not really,"  he may just be churning, mulling things over, trying to figure a few things out, and simply can't put them into words.  At least not yet.