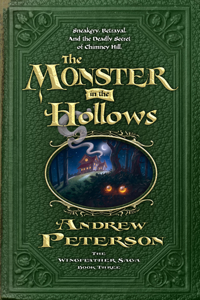 The Monster in the Hollows is the third installment in Andrew Peterson's "The Wingfeather Saga."  We are first introduced to Janner, Kalmar (a.k.a. Tink), and Leeli Igiby in the series opener, On the Edge of the Dark Sea of Darkness.  The brothers and sister live in the small town of Glipwood with their mother, Nia, and their grandfather, Podo, and enjoy a relatively quiet life until they come into conflict with the dreaded Fangs of Dang.  Their lives are suddenly filled with danger as they begin an adventure that leads to the children's discovery of their true, royal identity: Janner is a Throne Warden, Tink is the High King, and Leeli the Song Maiden of the fallen kingdom of Anniera.  Their father, Esben Wingfeather, was the High King of Anniera, and their mother his queen.  The story continues in North! Or Be Eaten as the children embark upon a harrowing journey for the Ice Prairies, fleeing for their lives from the Fangs, who have discovered the children's true identity and value to their leader, Gnag the Nameless. In the midst of indelible trials, Janner and Tink engage in deeper struggles with the responsibilities placed upon them by their new-found identities.
Hollows takes Janner, Kalmar, and Leeli's journey of identity to a profoundly deeper level.   What does it mean to be a song maiden, a throne warden, or even a king? Through the instruction they receive from their mother, their teachers at school, and the personal humiliation they must regularly endure, the children learn that their royal identity is a call to service and humility.  In fact, the Wingfeathers acutely learn who they are through what they suffer (cf. Hebrews 5:8).  Nia's daily reminder, "Remember who you are," acts as a refrain of one of the book's central themes: the importance and power in a name defining identity.  In many respects, herein lies the masterful way in which Mr. Peterson weaves the heart of the Gospel into his story.  The Gospel of Mark is the story of Jesus, the Servant-King, the center of which is found in chapters 9 and 10.  After Jesus foretells of his coming death and resurrection (9:30-32), He immediately tells them, "If anyone would be first, he must be last of all and servant of all" (v. 35).  Then in chapter 10, after again foretelling of his coming suffering and death in Jerusalem, and subsequent resurrection, He teaches the disciples again what their calling entails after James and John's request to be seated at Christ's left and right in glory.  Gathering all of the disciples to him, Jesus says,
"You know that those who are considered rulers of the Gentiles lord it over them, and their great ones exercise authority over them.  But it shall not be so among you.  But whoever would be great among you must be your servant, and whoever would be first among you must be slave of all.  For even the Son of Man came not to be served but to serve, and to give his life as a ransom for many (vv. 42-45).
Hold that picture in place and consider one of the central exhortations of Paul's letter to the Colossians.  He calls believers to consider what Christ has accomplished (see 2:6-15), and to live according to their identity in Him (especially note 3:1-17).  Essentially, Paul is saying, "Be who you are."  Furthermore, as kings (Revelation 1:6, 1 Corinthians 6:2), God's people are called to a life of service and humility patterned in the life of Christ.  The Monster in the Hollows vibrantly brings these themes to life, resonating in the soul.
The consensus of the Thacker home is that this is Mr. Peterson's best story-telling yet.  My simple proof is the two-plus hours my wife and boys sat in rapt attention last night.  As long as my voice held out there was little doubt we would get through all seventeen chapters left in order to finish the book.  "The Wingfeather Saga" is to be concluded in the fourth volume, The Warden and the Wolf King. Deborah initially vowed to be "mad" at Mr. Peterson that the last book wasn't written yet, but has since changed her mind, so satisfying was Hollows.  I hope that more children and parents will read The Wingfeather Saga, and for the discussions it will lead to as we endeavor to remember who we are, and instruct our children in the same.

Besides the new, adorable things that Evangeline (my almost 11 month-old daughter) did yesterday, the highlight of the day was, without a doubt, meeting Carrie Underwood at the Whole Foods in Green Hills.  Even today it still doesn't seem real, but it happened, and here is the story.
I was pulling out of the Whole Foods parking garage while talking to my wife on the phone.  As I did so, I happened to see a blond-haired woman wearing a pink sweatshirt walking along the sidewalk toward the store entrance.  I had a reasonably good look at her face, and said to Deborah, "I think I just saw Carrie Underwood."  She immediately encouraged me to go back into the store to make sure.  I mumbled something about bad traffic (it was close to 5 PM, and if you've ever been in Green Hills at that time of day you know what I mean), but Deborah mentioned that "you might not get another chance," or,  "you'll always wonder."  Then she asked, "Are you going to invite her to dinner?"  To which I quickly replied, "No, I don't think I'll even talk to her."  Ending my call with Deborah, I was about to turn onto Hillsboro Road when Carpe Diem got the better of me, and I turned around.  Back to the parking garage I went, quickly found a place, and re-entered the store.  The pink sweatshirt was fairly easy to spot, so I got another glance somewhere in the produce section and was 99% sure it was Ms. Underwood.   Now the challenge became to find a moment to speak to her when there were not a lot of other people around.  I pretended to shop for about the next five minutes (it felt longer, maybe it was) looking for an opportunity.  Finally, I made up my mind, walked around a corner and there she was.  Immediately I said, "Excuse me.  Carrie Underwood?"  She said, "Yes," with a slight I-would-rather-not-be-bothered expression, but was gracious nonetheless.  I blathered something about being a big fan, and I am not sure what else.  At some point I introduced myself and she extended her hand, and then I proceeded to tell her that my wife and I had always said that if we ever met her in person, we would invite her over for dinner.  With a smile she asked, "Can you cook vegetarian?"  I assured her that would not be a problem given our own family's special dietary needs.  I probably thanked her again, and then walked away.  No sooner did I walk away than I realized she did not have a way of contacting me.  So I quickly pulled out one of my cards, circled around to where she was in the frozen foods, and handed it to her saying, "This is my contact information."  She took the card, and I thanked her for allowing me to disturb her, which she said wasn't a problem.  That's my story of meeting Carrie Underwood.
Now, as I reflected upon this last night during supper, I began to think upon on the providence of God, and all of the details that had to be just right for this meeting to take place.  Before I shopped at Whole Foods, I went to Trader Joe's.  Before going to Trader Joe's, I intended to get a haircut, but found out my regular barber was not at the shop, so I ended up going straight to Trader Joe's from my house.  The route that I took to get there; the delay of waiting on a worker to check on a product we had bought there in the past, but apparently no longer carry; seeing Jonathan Rogers in the Whole Foods Café after arriving there and speaking with him for a few minutes; and then the list of things I needed to purchase, and the time it took for me to procure them at Whole Foods.  All of the minutes and seconds worked out so that as I was driving out of the parking garage there was Carrie Underwood.  Of course, you can argue this to be the case for any event or encounter.  For instance, finding a great parking space at the mall has more variables and factors than we can possibly imagine.   Still more, if you had asked me who would be the one Nashville celebrity I would most like to meet, without a doubt, I would answer Carrie Underwood.  Add to that the running tongue-in-cheek agreement between Deborah and me about inviting her over for dinner if we ever met her only adds another layer of satisfaction and enjoyment to the experience.  So, believing in the providence of God, which I do, and knowing that He knows all of the variables involved (including Miss Underwood's schedule that day), this "chance" meeting was perfectly orchestrated within the bounds of choices that were made and factors out of my control.  There is mystery in such a reality, to be sure, but there is also reason for thanksgiving.  The Lord  "discerns my thoughts from afar" and is "acquainted with all my ways" (Psalm 139:2, 3), and that being true, meeting Carrie Underwood was hardly an accident.
And Miss Underwood, just in case you come across this post, please know that you and your husband have a standing invitation for dinner at our home.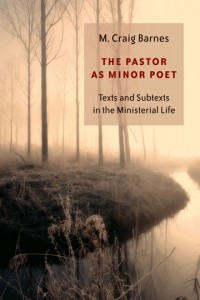 Last week I had the privilege of attending a breakfast with some fellow pastors (and aspiring pastors) in the Nashville area.  Reverend David Cassidy was a guest, speaking to the group on the topic "The Reading Life of the Pastor."  It was an excellent talk and conversation, and encouraging and challenging on a number of fronts.  One of the overall impressions I was left with is that a pastor needs to have a "poetic" ministry.  This jogged my mind to recall a book that I had picked up and started, but had set down and not returned to: The Pastor as Minor Poet, by M. Craig Barnes.  In light of Pastor Cassidy's talk, I have taken it up again, and came across this insightful remark.  In setting forth the possible ways in which a pastor can be identified (such as shepherd, priest, ministers of Word and Sacrament), Mr. Barnes humbly suggests the image of the poet.  He writes,
I present this not as the normative or even preferred image, but simply as another biblical description of the calling of those who have been blessed with a vision that allows them to explore, and express, the truth behind the reality.  Poets see the despair and heartache as well as the beauty and miracle that lie just beneath the thin veneer of the ordinary, and they describe this in ways that are recognized not only in the mind, but more profoundly in the soul.

In a day in which people are so profoundly confused about fundamental identity issues, and are desperately trying to construct life as best they can, it is critically necessary for pastors to recover this poetic dimension of their ministries.  What the congregation needs is not a strategist to help them form another plan for achieving a desired image of life, but a poet who looks beneath the desperation to recover the mystery of what it means to be made in God's image (18-19).
Poets are visionaries.  They can see the world at a deeper level, and help others to see that world, too.  Surely pastors are called to the same.  We live in a world still marred by sin, but Christ has come and redeemed the world.  In so doing, He has given the Church a vision, not only for the future, but for the present.  Therefore, it is for pastors take up the poetic mantle to help God's people see the life which Christ bids them to live in Him.