This looks like it is going to be fun.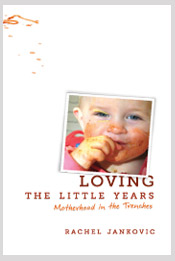 Do not let the size of this little book fool you.  It is packed with nuggets of wisdom that are presented with a humor and reality that makes for an engaging combination.  While the target audience is primarily moms with young children, dads will also find this a profitable read, as well as parents with older children.  Some of the principles espoused definitely apply to all stages of the child training adventure.  So grab a copy and be ready to laugh,  to be convicted, and to hear an empathetic voice about motherhood in the trenches.
Nashville and the Pacific Northwest may be close to polar opposites culturally, but this is worth a few minutes of your time.  On the whole, I find this piece encouraging, , and am glad to hear some good things about some friends of ours.
http://www.booksandculture.com/articles/webexclusives/2011/february/sutton021111.html?paging=off
"Father of light, we praise You because You forgive iniquity and do not reward us according to our sins.  What You promised to the fathers You have fulfilled in Your Son.  As the east and the west can never come together, so remove our sins far from us, that they can be accounted to us no more, for the sake of Jesus Christ, our Savior.  Amen."
Taken from a collection of prayers.
I came across this great quote today regarding the end of Matthew 4 and the beginning of Matthew 5 leading up to Jesus' "Sermon on the Mount."
Before the crowds hear the Messiah's word they are the object of his compassion and healing.  Having done nothing, nothing at all, they are benefited.  So grace comes before task, succour before demand, healing before imperative.  The first act of the Messiah is not the imposition of his commandments, but the giving of himself.  Today's command presupposes yesterday's gift (Davies & Allison, Matthew 1-7, International Critical Commentary, 427).