Journey of the Magi
by T.S. Eliot

A cold coming we had of it,
Just the worst time of the year
For a journey, and such a long journey:
The ways deep and the weather sharp,
The very dead of winter.
And the camels galled, sore-footed, refractory,
Lying down in the melting snow.
There were times when we regretted
The summer palaces on slopes, the terraces,
And the silken girls bringing sherbet.
Then the camel men cursing and grumbling
And running away, and wanting their liquor and women,
And the night-fires going out, and the lack of shelters,
And the cities dirty and the towns unfriendly
And the villages dirty and charging high prices:
A hard time we had of it.
At the end we preferred to travel all night,
Sleeping in snatches,
With the voices singing in our ears, saying
That this was all folly.

Then at dawn we came down to a temperate valley,
Wet, below the snow line, smelling of vegetation;
With a running stream and a water mill beating the darkness,
And three trees on the low sky,
And an old white horse galloped away in the meadow.
Then we came to a tavern with vine-leaves over the lintel,
Six hands at an open door dicing for pieces of silver,
And feet kicking the empty wineskins.
But there was no information, and so we continued
And arrived at evening, not a moment too soon
Finding the place; it was (you may say) satisfactory.

All this was a long time ago, I remember,
And I would do it again, but set down
This set down
This: were we led all that way for
Birth or Death? There was a Birth, certainly,
We had evidence and no doubt. I had seen birth and death,
But had thought they were different; this Birth was
Hard and bitter agony for us, like Death, our death.
We returned to our places, these Kingdoms,
But no longer at ease here, in the old dispensation,
With an alien people clutching their gods.
I should be glad of another death.
Mission: Its Meaning and Manifestation
Speaker: Pastor Rich Lusk
Listen to Pastors Thacker and Lusk discuss the upcoming conference HERE


Conference Schedule
Friday, May 13, 2011 – 7:00 PM *
"Mission and the Home"

Sometimes we think the purpose of the church is to meet the Spiritual needs of the family. But what if actually it's the other way around, and the family is called to serve the mission of the church? How do we use our family resources, our homes, our time, and our money, to further the mission of the church in the world? How do we train our children to play their part in this mission? Can we find a happy balance between protecting them from the world, while still sending them into the world? How can our families be more outward facing, embracing our communities and neighborhoods in the love and truth of the gospel?
Saturday, May 14, 2011 – 9:30 AM *
"Mission and the Marketplace"

What's the purpose of work? Personal fulfillment? A paycheck? Status and prestige? God calls us to work for a myriad of reasons, but among them is the furthering of the Great Commission. But this doesn't mean doing personal evangelism on company time. Instead it means learning to do business as a form of mission, using entrepreneurial skills and business resources to serve the good of others. It means learning to do our work in a way that ministers to the common good, recognizing God uses our daily work as a way of blessing the world and teaching us about our mutual dependence on one another.  Work is not just work; through our work, God includes us in his global mission of renewing the world. Doing our work with excellence can become a way of loving God and neighbor.

2nd Saturday Session – 11:00 AM
"Mission and the Poor"
Why are some people poor? Why is poverty so hard to deal with? Can we safely ignore the poor? Should we feel guilty for not doing more to help the poor? And how can we really help them in a way that doesn't just subsidize all the wrong things? Caring for the poor is a biblical priority, but one that the church in our age has a hard time embracing. What is our biblical burden, how do we carry it out, and how does this mercy work relate to the proclamation of the gospel?
Sunday, May 15, 2011 – 10:00 AM (Lord's Day Worship)
"Mission and the Gospel"
What is God up to in the world? Where is God working and how? In what ways can we join in God's work? The gospel not only draws us into God's presence to receive his blessing; it also sends us out to be a blessing the world. Every Christian is called to be a missionary in some form or fashion. But when we learn to live out the mission of the gospel, we find the Christian life is never boring. If we embrace this mission fully, we're bound to have some great stories to tell!
The Innocents
Peacefully sleeping, without a sound,
Wrapped in blankets all around,
Lies my daughter, sweet and mild;
A joy.  A gift.  A precious child.
Tiny fingers.  Tiny toes.
Of these things she is composed.
Soft and pudgy in her frame;
Amazed the Savior bore the same.
She lies there safe and undisturbed;
Was it the same for the flesh-made Word?
A tyrant's price placed on His head;
The King of the Jews Wanted: Dead.
With Him to Egypt His parents fled
Obeying what the angel said.
Old Herod's sword in fury stirred,
On Bethlehem's boys his wrath conferred.
Lamentations hardly tame
By mothers whose sons they'd ne'er reclaim;
In Ramah's streets their grief arose,
No comfort found or calm repose.
Thus it was for the Promised Child,
Who came to save a world defiled.
Sleep on, little girl, in His grace wound,
For He is life and peace unbound.
I found this to be creative, tasteful, and moving.
No matching videos
In light of what is happening to Domenic Johansson and his family in Sweden, this prayer seems quite fitting.

"Lord, righteous and almighty God, remember Your weather-beaten and tempest-tossed Church on this earth.  Restrain her enemies, destroy their wiles, and hinder their violence.  Preserve Yours saving truth to us and our children, and grant us to praise You with a joyful heart, now in the Church militant and forever in the Church triumphant.  Amen."
(I have a feeling I've posted this prayer before (though my searches came up empty).  Even if I have, it is a prayer that still needs to be prayed.)
Two Sundays ago I preached a sermon on Genesis 9:20-29, and was encouraged to write a summary of the exposition of the text.  While such a text requires a great deal of context and nuance, and I might be more inclined for any interested parties to simply listen to the sermon, here's the basic argumentation that I set forth.
The popular handling of the text is to lambaste Noah for his drunkenness, and to lament how even the most righteous of men are still sinners.  Regarding this incident John Calvin wrote in his commentary on Genesis, "I rather suppose, that we are to learn from the drunkenness of Noah, what a filthy and detestable crime drunkenness is.  The holy patriarch, though he had hitherto been a rare example of frugality and temperance, losing all self-possession, did, in a base and shameful manner, prostrate himself naked on the ground, so as to become a laughing-stock to all.  Therefore with what care ought we to cultivate sobriety, lest anything like this, or even worse, should happen to us?"  And that is basic presupposition we have when we read this account, cultivated from our early days in Sunday School.  We start with a moralistic approach to the text, instead of a biblical-theological one.
However, a question that we do well to ask is, "Where is Noah condemned in the text?"  Or for that matter, where is Noah condemned for his actions anywhere in Scripture?  The simple fact of the matter is that the Bible doesn't condemn Noah.  That being the case, perhaps we should not be so quick to condemn him either.  Granted, every English translation reads that Noah was drunk, and the Hebrew term can mean that.  However, it is also a word that can be translated "merry" as we read in Genesis 43:33 when Joseph's brothers return with Benjamin to Egypt.  The last verse of the chapter reads, Portions were taken to them from Joseph's table, but Benjamin's portion was five times as much as any of theirs. And they drank and were merry with him. That is how we are to understand Noah's drinking.  In Psalm 104 we read that wine is given to gladden the heart of man (v. 15), and in Judges 9 we read about wine that cheers God and men (v. 13).  Noah was not sinfully drunk, but had drunk to the point of merriness and sleepiness, and took a nap.  After all, wine can have a soporific effect.
Now, another question that naturally comes to mind has to do with Noah's nakedness.  Again, the popular conception of the story is that Noah was so thoroughly drunk that he'd taken off his robes and was just passed out in his tent.  However, upon closer examination, this view cannot sustained by the text either.  We should not think that Noah was passed out naked in front of the opening of his tent, and Ham just happened to stroll by and finding it funny went and told his brothers.  The language indicates that Noah was "in the midst of his tent."  And this would have been quite a sizable tent, and not like a tent we use to go camping.  This was Noah's house.  He was in the midst of his home.  Also notice that Ham had to go inside his father's tent to see his nakedness because the text clearly tells us that Shem and Japheth were "outside" (v. 22).  So, was it wrong for Noah to be naked in the privacy of his own tent, which acted as a covering for him?  Not in the least.  You can no more argue that his nakedness was sinful than you can that it is sinful for you to be naked in the privacy of your bedroom.  So then, why was Noah naked?  Because he was resting from his labors, and had removed his robe, his garment of authority.  Basically, Noah was a king, and he had set aside his kingly duties for a time to enjoy the wine from his vineyard.  In Leviticus 10 we see a similar pattern with the priests and Levites who were not to drink while they were serving in the tabernacle, as well as in the caution given regarding wine and kings in Proverbs 31:4-5.  In other words, don't drink on the job.  Noah knows this, and so he's off-duty when he drinks and takes a nap.  This understanding of the text is further indicated by the fact that upon Ham's telling his brothers about their father, Shem and Japheth take the garment with which to cover their father.  The translations typically read "a garment," but the definite article is there in the Hebrew, and for good reason.  Ham was the one trespassing where he didn't belong, and was making a play for his father's authority when he took the robe, eliciting his brothers' collusion in the rebellion.  They would have nothing to do with it, and symbolically uphold Noah's authority by placing the robe on their shoulders, and are sure not to behold their father's nakedness.  Noah wakes up from his nap, knows what his youngest son has done, and pronounces judgment (something kings do) for Ham's sin.  And notice that the judgment has to do with authority and submission, which further indicates the nature of Ham's sin, i.e. the punishment fits the crime.
So, that's the argument in a nutshell, and there are probably some spots where a bit more detail would be helpful, but I trust this will suffice for the moment.  Also consider, that when Adam, Cain and the Sethites sinned earlier in Genesis, the text is clear about the judgment that God brought upon them as a result.  Here, Noah is not judged for sin.  Ham (via Canaan) is judged (and Noah is the one who pronounces the judgment!).  Therefore, Noah is not at fault, and we probably owe him an apology.
(For more nuance and detail, I commend to you chapter 4 of James Jordan's Primeval Saints, where I was first introduced to this perspective on Noah in detail.   Admittedly, I was initially reticent to accept the position I've espoused above, but now having studied it in greater detail, I believe it is the most biblically consistent).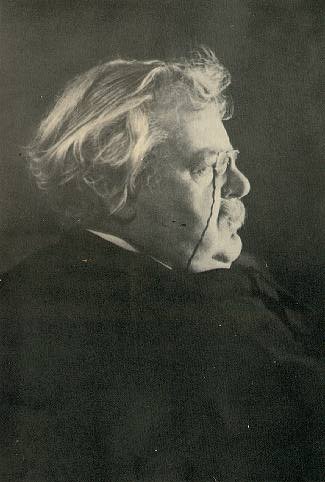 "It is the one great weakness of journalism as a picture of our modern existence, that it must be a picture made up entirely of exceptions.  We announce on flaring posters that a man has fallen off a scaffolding.  We do not announce on flaring posters that a man has not fallen off a scaffolding.  Yet this latter fact is fundamentally more exciting, as indicating that the moving tower of terror and mystery, a man, is still abroad upon the earth.  That the man has not fallen off a scaffolding is really more sensational; and it is also some thousand times more common.  But journalism cannot reasonably be expected thus to insist upon the permanent miracles.  Busy editors cannot be expected to put on their posters, 'Mr. Wilkinson Still Safe,' or 'Mr. Jones, of Worthing, Not Dead Yet.'  They cannot announce the happiness of mankind at all.  They cannot describe all the forks that are not stolen, or all the marriages that are not judiciously dissolved.  Hence the complete picture they give of life is of necessity fallacious; the can only represent what is unusual.  However democratic they may be, they are only concerned with the minority."
– excerpt from G.K. Chesteron's The Ball and the Cross.