An appropriate hymn for this time of year is "Now Thank We All Our God" written by Martin Rinkart.  In it we declare God's care and goodness, and give thanks to Him for his manifold provisions in our lives.  I suppose this is an easy hymn to sing when times are prosperous, and with the current economic downturn in the U.S. perhaps we are hesitant to sing this as vigorously as we may have in years past.  However, given the circumstances in which the hymn was originally composed, let us examine our own hearts and be compelled to sing it by faith as heartily as ever.
Martin Rinkart lived from 1586 to 1649 in Germany.  He was the son of a poor coppersmith.  He was sent to school and showed a love for books and music.  His parents hoped that he might become a scholar or perhaps a minister.
At the age of thirty-one he was called to be the pastor in his native town of Eilenburg.  When he arrived the Thirty Years' War had just begun, and the dreadful bloodshed was starting.  Because Eilenburg was a walled city, it became a refuge for those fleeing the ravages of the war.  It quickly became overcrowded, and Rinkart, along with two other pastors, sought to minister to the needs of the people.
Throughout the years of the war several waves of deadly pestilence  swept the city, along with the various armies that marched through the town, leaving death and destruction in their wake.  The Rinkart home became a refuge for afflicted victims – even though Martin could barely provide for the needs of his own family.
During the plague of 1637 the two other ministers died, but Martin carried on their work as well as his own.  His days were spent going from bed to bed, nursing the sick, and cheering and praying with the dying.  He buried about five thousand people, sometimes reading the funeral service over forty or fifty bodies.  Eight thousand people died in one year, and his own beloved wife was taken by the plague.
And so when Rinkart penned this hymn, likely sometime the year before the war ended in 1648, it is a confession of his faith that he could say,
O may this bounteous God,
Through all our life be near us,
With ever joyful hearts,
And blessed peace to cheer us,
And keep us in His grace,
And guide us when perplexed,
And free us from all ills
In this world and the next.
"God of all grace, the Father of our Lord Jesus Christ, who knows the enemies of Your Church and are able to thwart all their designs; protect us against all tyrants, heretics, and hypocrites.  Hear our prayer and grant us to love Your Word, to promote Your honor upon the earth, and to continue in Your service always even to the end.  Amen."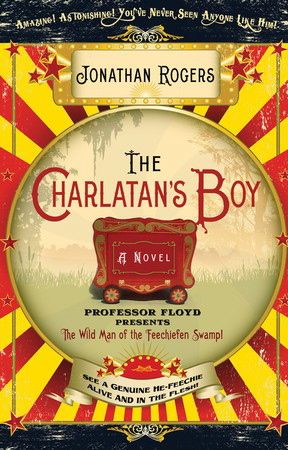 You will certainly laugh.  You might possibly cry.  And undoubtedly you will find The Charlatan's Boy speaking to your own heart and life.  Jonathan Rogers' latest novel is a story that combines charm, humor and insight in such a way as to make a unique impression upon the reader.  You almost get the sense that you are listening to the yarn of an old, southern gentleman, while sipping sweet tea on the front porch.  There is a certain flow that carries you along like a river; a purposeful meandering that allows you to take in those moments when you realize that you are hearing your own story.  In the way that only good fiction can,  Charlatan's Boy is a clear window through which you are able to gaze upon your own existence.  Who doesn't want to belong?  Who doesn't give consideration to who they really are, to their true identity from time to time?  Mr. Rogers explores these questions and themes, and even poses some witty insights on the subject of community.  Of course, to even speak of the story in such categories is almost a disservice, so buy a copy and enjoy.  It is a great read for the whole family.