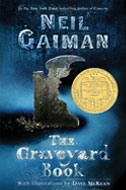 Winner of the John Newbery Medal, Neil Gaiman's The Graveyard Book is a carefully spun yarn with a beautiful melancholy about it.  The beginning is nothing short of chilling, and that chill lingers upon the reader throughout as the story of Nobody Owens is told.  The setting of the book is primarily a graveyard, which some might find disturbing.  However, knowing that the story is loosely patterned after Kipling's The Jungle Book is a helpful piece of information that allows the reader to grasp the overall progress and trajectory of Gaiman's work. It is clear that Mr. Gaiman is masterful at his craft, and the ending of Graveyard leaves an impression that is slow to fade.  Given his influences, I wonder what Mr. Gaiman's outlook on eternity might be, but suspect he is a soul still searching for answers.  Appreciating this piece, I look forward to exploring some of his other works.
Parental note:  Due to the dark themes and images (including some of the illustrations ) I would not recommend The Graveyard Book for readers under the age of, say, ten.  Younger children prone to nightmares will have plenty for their imaginations to dwell upon, so, unless you especially enjoy being awakened in the middle of the night or finding an extra 98.6 in bed with you, I would wait until you think your child can handle them.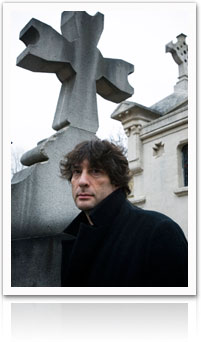 After having Neil Gaiman's Newbery-winning work, The Graveyard Book, recommended to me by a couple of different sources, I picked up a copy at the Hutchmoot in August.  Although I am in the thick of this unique read,  my curiosity about the author was sufficiently piqued, so I did some rummaging on his website.  Under the FAQs his advice to authors was enlightening, but I found his influences particularly interesting.
Q: From what I gather the atmosphere of this book has a Tim Burton air to it. In fact, to me, and possibly me alone – though I doubt as much – you as a creator have a Tim Burton air in general. Have you been influenced, or inspired by him? Could you maybe list off some of the folks who have inspired you?
A: Tim Burton came along much too late to inspire me. I think the people who influence you probably did it before you were twenty – in my case the list would have to include C.S. Lewis, J.R.R. Tolkien, Harlan Ellison, Lou Reed, R. A. Lafferty, E. Nesbit, David Bowie, Jim Henson, Roger Zelazny, Will Eisner, Dr Who (the Hartnell, Troughton and Pertwee incarnations), Jules Feiffer, Noel Langley, Ursula K. LeGuin, Michael Moorcock, Hope Mirrlees, Margaret Storey, Robert Heinlein, Al Stewart, Charles Addams and the people who did the black and white episodes of The Avengers… and that's just for starters…
Q: What sparked your Myth interest?
A: I think it was always sparked reading the Roger Lancelyn Green Legends of the Norsemen and Legends of Ancient Egypt when I was seven certainly fanned the flames.
Q: What part of the day does most of your ideas come from?
A: Teatime.
Q: What was your favorite book when you were a child? What is your favorite children's book now that you're grown up?
A: When I was growing up… probably the Narnia books. Probably The Voyage of the Dawn Treader. Now I'm grown up I've got to read the Narnia Books out loud twice, about a decade apart, and I still think they are astonishing, although I'm more aware of the things I don't like about them. As a grown up, I think Richmal Crompton's William books are better than I thought they were as a kid, and I loved them, most of them, as a kid.
Q: Do your imaginings ever get lost? I'm ashamed to admit I quit believing, but I guess the real question is: Do you ever have a story suggested to you by a piece of artwork (such as a painting, illustration, or sunset)?
A: I get stories from everywhere, and yes, artwork is one of those places. I wrote a number of stories inspired by Lisa Snellings statues, for example.
Q: Many of your books feature doors, walls, and other structures. Do you have a fondness for architecture? If so, what is your favorite city?
A: I think my favourite city is Venice. I like architecture when it evokes something interesting.
Q: Why do all your books contain scenes, in which you tell us about what they're dreaming?
A: Because dreams are important.
The above is taken from Mr. Gaiman's official website: http://www.mousecircus.com/faqs.aspx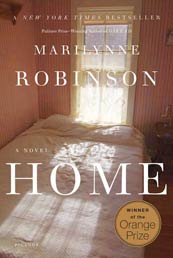 Marilynne Robinson won the Pulitzer Prize for her novel Gilead, so for me to attempt to tell you what a marvelous writer she is, I find subtly amusing.  But she is, and her book Home makes an impression that is difficult to compare to other books that I have read.  How she is able to beautifully express such ordinary things of life is a wonder that can only be known in the experience of reading the story itself.  How deftly she draws the reader in with the cords of life, family, home, and faith.  In a word, this story is bittersweet, but beautifully and hauntingly so.
Perhaps Home strikes so deeply to my own soul because I have been a Presbyterian for practically my entire life; because I am a pastor; and because I have children (two sons and a daughter) whom I wonder about – what their futures hold, and what their faith will look like in the years to come.  I also have many, many fond memories of the home in which I grew up, which includes baseball –  the smell of a leather glove, the feel of a new ball, the sound of the ball striking the glove, and the simple pleasure of playing catch.  Ms. Robinson's depictions are not so foreign, and that is, perhaps, why this work has made such a deep impression.  To say that this book is thoroughly enjoyable would be misleading.  There are times when it is hard to read, and your soul aches, and yet you continue because the story is your own.
In his work Trees and Thorns, James Jordan raises the point, in relation to Genesis 3, that God did not immediately ask Adam whether or not he had disobeyed.  Rather, that's the third question that is asked.  With the first question of "Where are you?", God is essentially asking a question about relationship.  Clearly it is estranged, since Adam is hiding from God among the trees.  The second question,  "Who told you that you were naked?", is a question that relates to identity:  Adam's and God's.  God had made Adam naked, and he could not hide from the omniscient Creator.  Then comes the the question to elicit a confession, "Have you eaten from the tree which I commanded you not eat?"  Notice that the name of the tree is not specifically mentioned.  Rather, the Lord describes the tree and couches the question in relation to Adam's obedience or disobedience.
Setting the Lord's approach to Adam before the eyes of our faith, I cannot help but wonder if there is not a pattern for our own confession displayed here.  Certainly the bible has a lot more to say about the confession of sin, but what if we approach our own confession from the perspectives of relationship, identity, and obedience?  This might sound overly simplistic, but what about approaching our children's confession of sin this way, too?  Instead of just asking them, "What's your sin?" perhaps we would do well to ask them or remind them about their relationship to the Lord (and to you as a parent); their identity as a baptized believer and who God is; and then come to the matter of their disobedience.  The Lord's questions to Adam are asked in a context of remarkable grace and patience.  God is there as Judge to be sure, but He is also there as Yahweh, the covenant-keeping God who does not fail, even when His people do.  He is the Heavenly Father who will not abandon His first son, but who goes after him in order to restore him.  Likewise, let our confession and the confession of our children be made in the same context of love and mercy.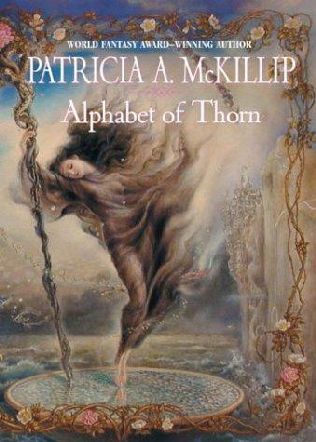 Perhaps the greatest complement that can be paid to a piece of fiction is that it causes you to see your own world and reality in a new light and at a deeper level.  Patricia McKillip arouses these senses in the beautifully written and captivating Alphabet of Thorn.  I highly recommend it if you enjoy the magic and romance of fiction; that experience of getting swept up into another world vividly portrayed across the canvas of your imagination.
(One parental note: In my opinion, this is probably not suitable for readers younger than high school age).