Toy Story 3 is terrific.  It has just the right amount of nods to the past two movies, while telling a fresh story with depth.  I had heard that it was good and getting great reviews across the board, but really wondered if it would live up to the hype.  Amazingly, it exceeded my expectations.   It doesn't take long to fall in with the familiar characters and enjoy the trademark humor, all the while wondering how it will turn out in the end.  Instead of twisting aspects of what we enjoy from childhood, and turning everything upside down as in the Shrek movies, the Toy Story-Tellers cultivate that connection we have with our past by adding vintage touches of creativity and wit.  Initially, I came away thinking, "This is the best of the three.  This is my favorite"; only then to pause and remember how original Toy Story was when I first saw it.  What a happy dilemma of attempting to choose a favorite.  I suppose it isn't so different from trying to choose a favorite toy.  You really can't.  You have your reasons for enjoying them all.
O Lord, let this Your little flock,
Your name alone confessing,
Continue in Your loving care,
True unity possessing.
Your sacraments, O Lord,
And your saving Word
To us, Lord, pure retain.
Grant that they may remain
Our only strength and comfort.

Help us to serve You evermore
With hearts both pure and lowly;
And may Your Word, that light divine,
Shine on in splendor holy
That we repentance show,
In faith ever grow;
The pow'r of sin destroy
And evils that annoy.
O make us faithful Christians. – LSB

"For the benefit of man, You, Father of mercies, instituted holy wedlock, and have promised Your blessing to every house in which dwells Your fear.  Yes, even You sit at the fireside of them that love You, as at Your own hearth and home.  Cause your peace to dwell under our roof, and bless the labor of our hands." – Martin Luther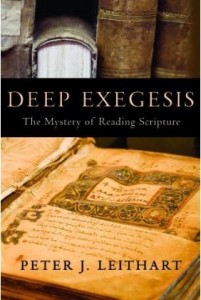 In his work Deep Exegesis, Peter Leithart draws comparisons to the listening of music and reading a given text.  He writes, "We cannot take music in a moment,  A chord gives us several notes at once, but a chord is not music, or not much music.  To hear the simplest melody, we need to listen for at least a few seconds.  And more complex pieces can take an hour or more to experience.  Notes follow notes, measures follow measures, movements follow movements.  Music is not the kind of art that allows us to 'get to it, man.'  If we are going to listen to music at all, we have to give it time to unfold.
"Music, as I said, teaches patience, but that formulation is too intelluctualist, as if I am standing back, watching myself listen to music, and then concluding, 'Ah, yes.  I see that I am supposed to learn patience from the experience of listening to music.'  Much better to say that music trains us in patience.  It trains us in moving through dissonance and tension toward resolution.  It trains us in waiting for the climax, waiting for beauty to build and build.  It trains us not to seize.  Music trains us in good sex, sex that takes time" (52-53).
Dr. Leithart continues to make his case, describing the musicality of a text, particularly in that music and text share the quality of their meaning being unfolded over time.  "Texts are musical in that they take time, and the time texts take is musical time.  The time of music and the time of texts always involves reaching for the next moment.  Music is always moving toward the next note, and we are always reading beyond the individual word.  Each sentence compels us to move forward; each paragraph carries us along to the denouement" (53).
These realities have profound implications, particularly in relation to our hearing the biblical text.  Given the instantaneous nature of our society, we must recognize the challenges that face us, as well as be aware of our tendencies.  "We are often impatient with music, and we are impatient with texts.  A writer lingers, and we want to grab him by the throat and say, 'Get to the point, man!'  Evangelicals would reverently refrain from throttling an apostle, but the demand for practical Bible teaching often has this threatening subtext.  'Don't give me all these names, lists, genealogies, stories.  Tell me what to do.  Tell me about Jesus.'
"God in his infinite wisdom decided to give us the a book, a very long book, and not a portrait or an aphorism.  God reveals himself in his image, Jesus, but we come to know that image by reading, and that takes time.  God wants to transform us into the image of his image, and one of the key ways he does that is by leading us through the text.  If we short-circuit that process by getting to the practical application, we are not going to be transformed in the ways God wants us to be transformed.  'Get to the point' will not do because part of the point is to lead us through the labyrinth of the text itself.  There is treasure at the center of the labyrinth, but with texts, the journey is as important as the destination.  'Get to the point, man' is the slogan of the the liberal theologian; it is a demand for the kernel without the annoying distraction of the husky twists and turns of the text itself.
"We cannot get the meaning of a text without taking time.  And as the text takes time, the meanings of earlier texts shift with the introduction of later texts.  The meanings of the texts emerge through the time of reading" (55).