"According to Your mercy, You, O God, have established a coven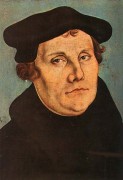 ant with us in Holy Baptism in which You have obligated Yourself to be our God and to forgive our sins for Christ's sake.  Thanks, everlasting thanks, be unto You [for] this gracious covenant.  And now grant us grace to believe Your Word, and strength to persevere to the end, that we may adorn our profession in all things, through Jesus Christ.  Amen."  – Martin Luther
Today marks the ascension of the Lord Jesus to His throne in Heaven where He reigns as the King of Kings.  In Ephesians 4:1-16,  Paul provides an interesting list of gifts given to the Church as a result of Christ's ascension.  He writes,
I therefore, a prisoner for the Lord, urge you to walk in a manner worthy of the calling to which you have been called, 2with all humility and gentleness, with patience, bearing with one another in love, 3eager to maintain the unity of the Spirit in the bond of peace. 4There is one body and one Spirit—just as you were called to the one hope that belongs to your call— 5 one Lord, one faith, one baptism, 6 one God and Father of all, who is over all and through all and in all. 7But grace was given to each one of us according to the measure of Christ's gift. 8Therefore it says,

"When he ascended on high he led a host of captives,
and he gave gifts to men."

9(In saying, "He ascended," what does it mean but that he had also descended into the lower regions, the earth? 10He who descended is the one who also ascended far above all the heavens, that he might fill all things.) 11And he gave the apostles, the prophets, the evangelists, the shepherds and teachers, 12 to equip the saints for the work of ministry, for building up the body of Christ, 13until we all attain to the unity of the faith and of the knowledge of the Son of God, to mature manhood, to the measure of the stature of the fullness of Christ, 14so that we may no longer be children, tossed to and fro by the waves and carried about by every wind of doctrine, by human cunning, by craftiness in deceitful schemes. 15Rather, speaking the truth in love, we are to grow up in every way into him who is the head, into Christ, 16 from whom the whole body, joined and held together by every joint with which it is equipped, when each part is working properly, makes the body grow so that it builds itself up in love" (ESV).
What did Jesus give?  His grace.  His favor.  And that favor is particularly expressed through the giving of people to equip the saints and build up the church.  (The gift of the Holy Spirit at Pentecost as a result of Christ's ascension appears to underlie this section, particularly verses 3-7.)  While Jesus may have bodily ascended, He has not left His Church without help in the form of flesh and blood.
Also note, in verse 8, that Paul quotes from Psalm 68.  Meditate on the entirety of that psalm in the light of Christ's passion, resurrection, and ascension, and it will take on a whole new depth of meaning, inspiring us to sing it all the more vigorously – even this Lord's Day in our Ascension celebration.
"In his Word and in his Supper, the crucified and resurrected Christ is truly present now, even though his disciples on earth do not yet enjoy full, complete communion in his presence.  Time cannot separate disciples from their risen Lord or from Easter's promise of resurrection for them too.  The church now lives in the eternal Sabbath rest of Easter Sunday.  This is why the early Christians had an eschatological perspective on liturgical time, with Sunday as the eighth, eschatological day.  The church's liturgical calendar, which grew around Easter, helps foster this Christological view of time.  Instead of marking off passing years according to the secular world's clock, the church year ever revolves around Easter, returning to Easter each Sunday and moving from Easter toward the resurrection of all flesh.  The past is never lost, since the entirety of salvation history is recapitulated every Lord's Day, and indeed every single day, for the baptized already have been buried and raised with Christ (Rom. 6:3-4)."  – Arthur Just
May 1st & 2nd in Nashville were interesting, to say the least, and as we have experienced a historic event, the overwhelming nature of what has taken place causes one to reflect and consider.
Starting reflection: "What is the Lord teaching us?"  The Bible is clear that the Lord is in control of His creation, and that He governs the weather.  There isn't a drop of rain that doesn't fall precisely where the Lord ordains for it to go; a single strike of lightning that doesn't perfectly hit its mark; nor a tornado that doesn't proceed upon its destined course.  (For evidence see the Book of Job).  And that being true, then it is perfectly natural to wonder why the Lord ordained for such catastrophic weather to strike so precisely over the course of two days.  When viewing the radar pictures of the multiple storm systems that passed over, their path was amazingly uniform.  Even more, when viewing the color-coated rainfall charts, there was a strip stretching over the city from the southwest to the northeast with the city of Nashville, seemingly, as the center of the bulls-eye.  It wasn't the impersonal Mother Nature wreaking havoc, or just an extreme case of misfortune behind the weather events of last weekend.  Rather, it was the Almighty God, by the word of His power, orchestrating the minutest detail to perfection.  For many, Christian and non-Christian alike, this is hard to accept.  Some wonder, "Doesn't that make God a sadist?"  Or, "Why would a God who is supposed to be good, allow such awful things to happen?"  In answer to the first, no, God is not sadistic.  And in answer to the second, I don't know exactly why God ordained these events to take place as they did.   The Scriptures give us some general principles from which to view such happenings, and applying those principles to this situation is certainly appropriate, but we are compelled to admit that we are not God and cannot begin to plumb the depths of His mind.  His ways are perfect, even if they are unfathomable.  Just because a fifth grader can't make sense of an algebra book, doesn't invalidate algebra.  That basic principle applies here.
But back to the original question of what the Lord might be teaching us, and some further reflection.  Clearly, there isn't an easy answer, and it's astounding to consider that there isn't a singular answer because the equation has far too many variables for us to comprehend.  God knows the complete equation, and every answer to every aspect of the equation, but we are limited in our powers of discernment.  What might be the answer for some may not be the answer for everyone, and what might be the right answer for one may be not be the right answer for another.  Or it could be that more than one answer applies, which causes an even greater number of variables to be considered.  It is possible that the Lord is choosing to bring judgment upon us, reminding us of our finitude, and we ought to humble ourselves before Him.  That's one possible reason for the torrential rain and flooding, and we do well to take note of it, examine our lives, repent of our sin, and cast ourselves upon the boundless mercy of Christ. (Consider Jesus' reference to the 18 killed when the tower in Siloam fell as recorded in Luke 13).  This is often a good place to start, but neither does this mean it is the only reason.  At the beginning of chapter 9 of John's Gospel we read, As he passed by, he saw a man blind from birth. And his disciples asked him, "Rabbi, who sinned, this man or his parents, that he was born blind?" Jesus answered, "It was not that this man sinned, or his parents, but that the works of God might be displayed in him" (ESV).  Why did the Lord send the rains?  That the works of God might be displayed.  That's another very biblical answer, and one with a myriad of applications.  As the Church, as Christians have been coming to the aid of neighbors, friends, and total strangers, the works of God have been displayed.  As families have lost their homes, and possibly loved ones, and yet they still give thanks to Jesus their Savior and trust Him still, the works of God are displayed.  It is to declare with Job, "The LORD gave, and the Lord has taken away; blessed be the name of the LORD." Others are grateful that the damage they suffered wasn't as bad as it could have been, and this, too, is to display God's work as thanks are given in and for all things.
There's been a fair amount of speculation as to why Nashville hasn't received as much national publicity about last weekend's events as one might expect.  One author suggests that it's because there hasn't been an abundance of looting or crime sprees, but neighbors helping one another because it is the right thing to do.  I suppose selfless acts aren't as glamorous as wicked ones, but that's hardly surprising for an area of the country that has the Gospel of Christ so deeply ingrained in its culture.  Wasn't Jesus' model of service patterned in the removing His outer garments, wrapping a towel around His waist, and washing His disciples' feet (John 13)?  Didn't Jesus teach in the Parable of the Good Samaritan that the one who showed mercy was the one who loved his neighbor (L
uke 10)?  In such acts of service the Kingdom of God is displayed.  As Jesus declared to His disciples, "You know that those who are considered rulers of the Gentiles lord it over them, and their great ones exercise authority over them. But it shall not be so among you. But whoever would be great among you must be your servant, and whoever would be first among you must be slave of all. For even the Son of Man came not to be served but to serve, and to give his life as a ransom for many." So let us consider the lack of publicity to be a compliment in disguise, and the mark of a society that, on a certain level, displays the kingdom of the living God that shall never be destroyed; the God who delivers and rescues; who works signs and wonders in heaven and on earth.
Due to the extreme weather conditions, this morning's worship service has been canceled.